1970s
Walmart Goes National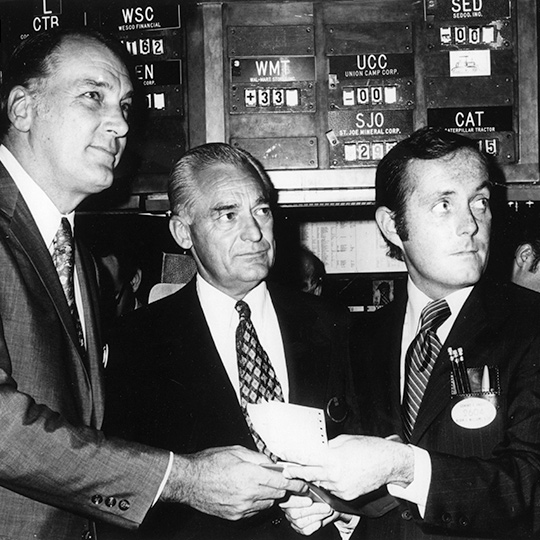 1970
Walmart becomes a publicly held company. First offered at $15, shares sell at $16.50 each.
1970
The company has 1,500 associates working in 38 stores in five states: Arkansas, Kansas, Louisiana, Missouri, and Oklahoma. Annual sales hit $44.2 million.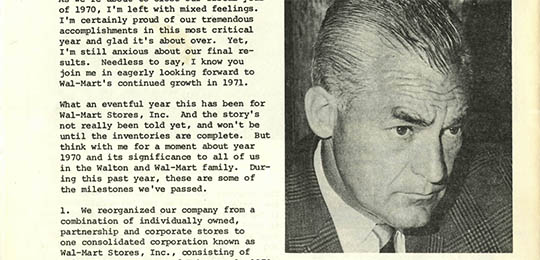 1971
The hourly associate profit-sharing plan is introduced.
1971
In May, Walmart stock experiences its first 100 percent split; it sells at a market price of $47.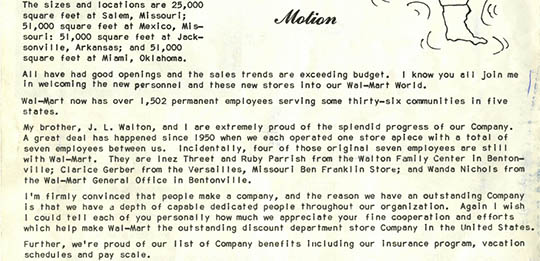 "Our 2.2 million associates make the difference every day and that's an advantage no one else can match."
Doug McMillon
1971
Walmart operates 51 stores, with annual sales of $78 million and 2,300 associates.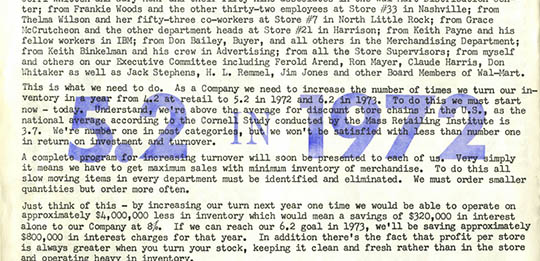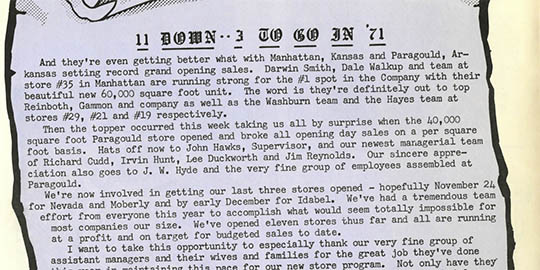 1971
Walmart World, Walmart's associate magazine, is first published in February.

Taking Care of Families
From the very beginning, the basic essentials as well as small luxuries were offered at the lowest prices, helping families save money and live better.
1972
Bob Thornton helped build the world-class Walmart distribution model that Walmart has today. Ferold Arend streamlined store operations, including merchandise accountability and personnel leadership.
1972
Walmart is listed on the New York Stock Exchange.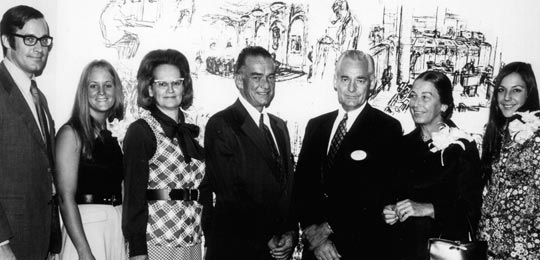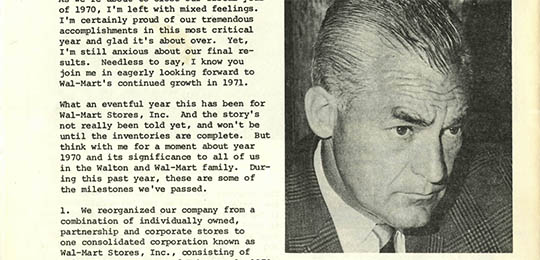 1972
Walmart stock splits 100 percent for the second time, with a market price of $47.50 on the NYSE.
Little Known Sparks
What dance did Sam do on Wall Street when Walmart reached its profit goal in 1983?
Sam danced the hula when Walmart reached its goal.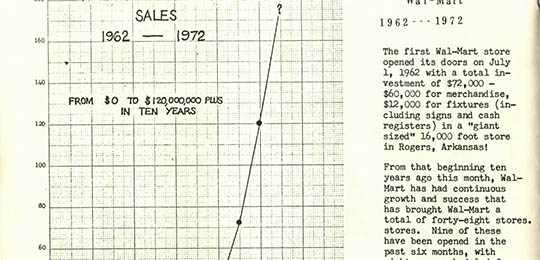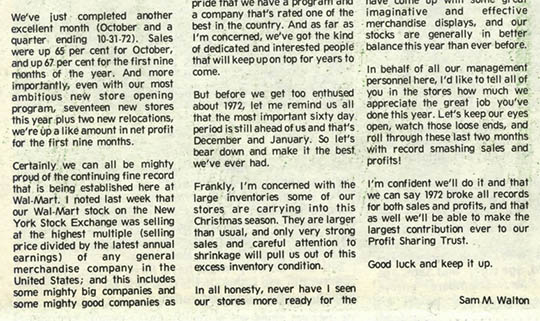 1972
Walmart operates 64 stores, with sales of $124.9 million and 3,500 associates.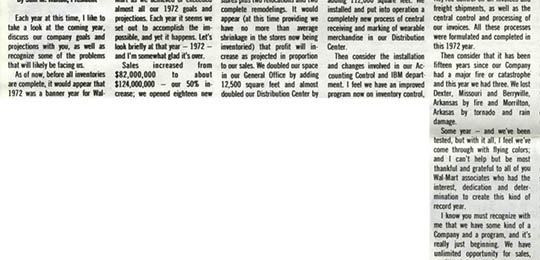 1973
Expansion continues into Tennessee.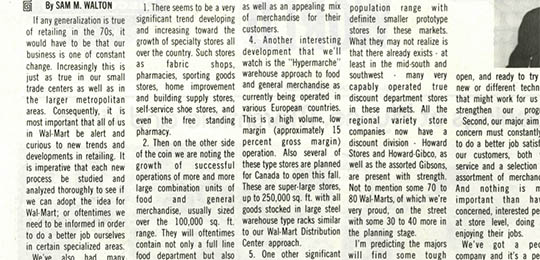 "We swim upstream, and it makes us strong and lean and alert."
Sam Walton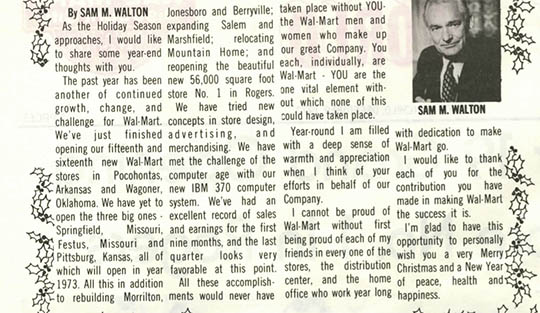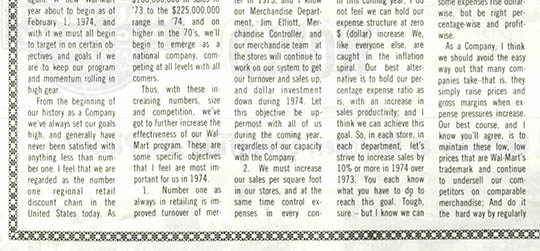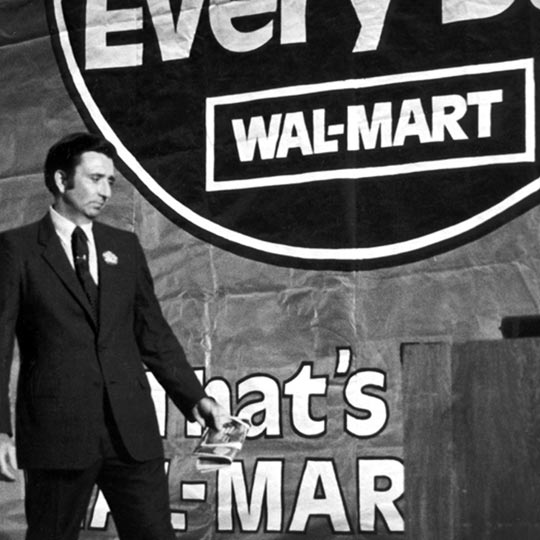 1974
In an effort to "level out sales curves and spread out increased efficiency," Walmart executive Jack Shewmaker champions Every Day Low Prices.
1974
As an outstanding store manager, Gary Reinboth trained Ron Loveless, who later became the first CEO of Sam's Club.
1974
As a key member of Walmart's senior leadership team, Ferold Arend is promoted to President and Chief Operating Officer in 1974.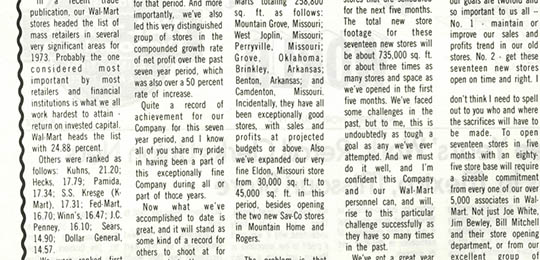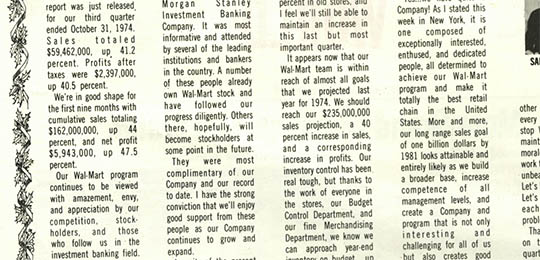 Little Known Sparks
How old was Sam Walton when he became an Eagle Scout: 13, 14, or 15?
At 13 years old, Sam became the youngest Eagle Scout in the state's history when he received the award for saving a boy from drowning.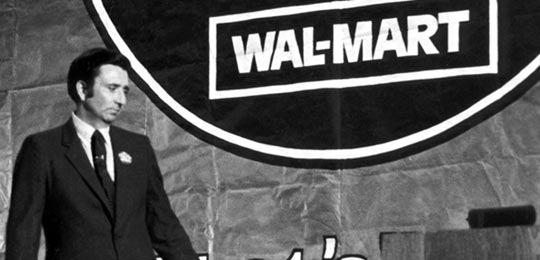 1975
Forbes ranks Walmart number one among general retailers.
1975
Inspired by workers he saw during a visit to Korea, Sam introduces the famous Walmart cheer.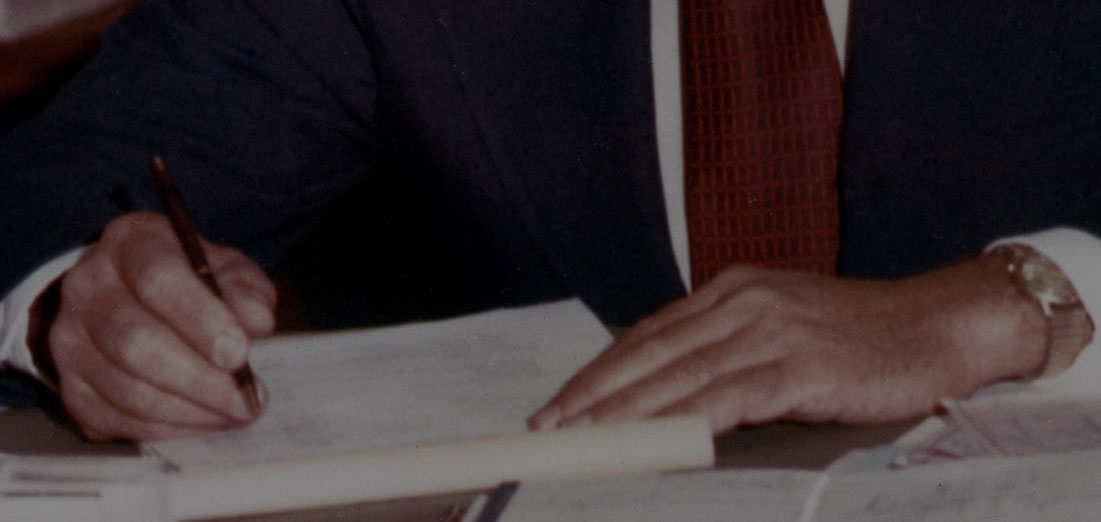 1975
Walmart leases an IBM System/370 Model 135 to track stock-keeping units (SKUs) in its distribution centers. It is one of the first computers to use "virtual memory."
1975
Electronic cash registers in more than 100 Walmart stores record point-of-sale (POS) data to maintain inventory.
"The real key is, let's truly spoil our customers as never before and beyond with our friendliness, courtesy and our obvious personal concern for their needs, appreciating them every day as we would guests in our homes. Our customer is our friend and guest who has chosen us over all other stores available on the street. Let's treat them accordingly and personally thank them for letting us serve them better with their needs."
Sam Walton
1975
Walmart goes to Texas.
1975
Over 7,500 associates work in 125 stores, with annual sales of $340.3 million.
Little Known Sparks
When did Walmart become the nation's largest retailer: '90, '95, or '01?
In 1990, Walmart became the nation's largest retailer with annual sales of over $32 billion.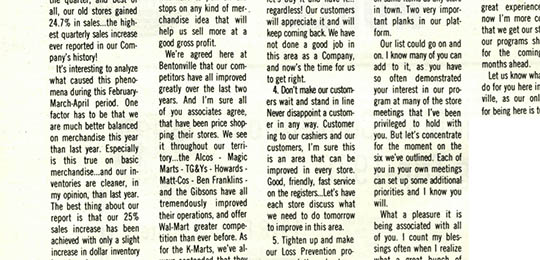 1976
David Glass joins the company as executive vice president of finance.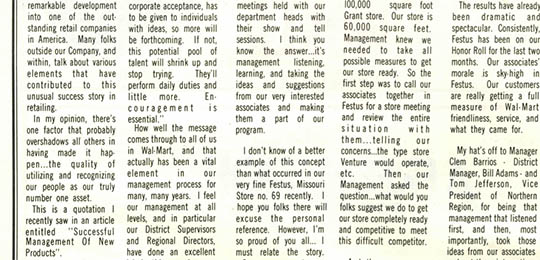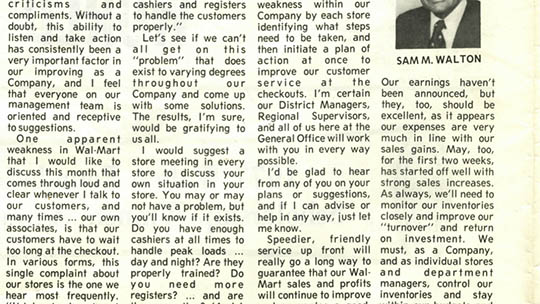 1977
Walmart builds a company-wide computer network and deploys a system for ordering merchandise from suppliers. The network helps Walmart achieve the secret to its success: Every Day Low Prices.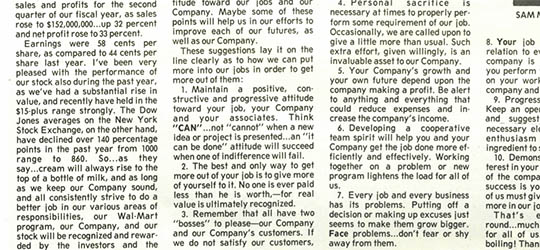 1977
Walmart makes its first acquisition: 16 Mohr Value stores in Missouri and Illinois.
"Nothing else can quite substitute for a few well-chosen, well-timed, sincere words of praise. They're absolutely free—and worth a fortune"
Sam Walton
"I don't know of anyone who has contributed more toward our total success as a retail company than Ferold Arend."
Sam Walton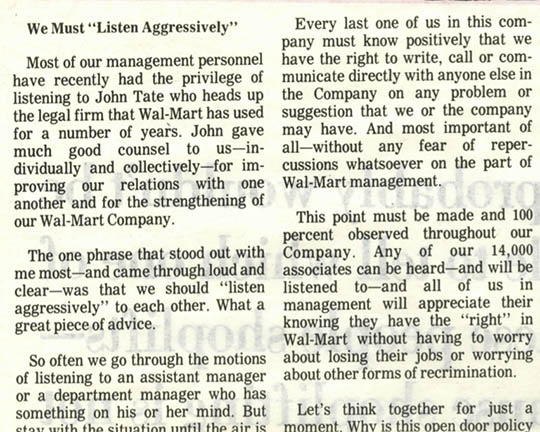 1978
Walmart buys the Hutcheson Shoe Company.
1978
Pharmacies, auto-service centers, and jewelry divisions are introduced in Walmart stores.
1978
In August, Jack Shewmaker becomes president and chief operating officer of Wal-mart Stores, Inc.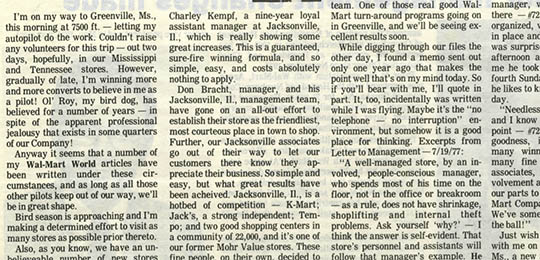 "All of us have got to go out to our stores and listen to our partners."
Sam Walton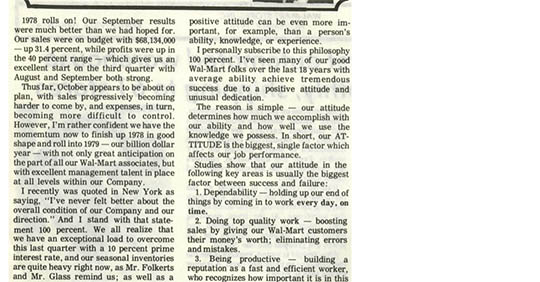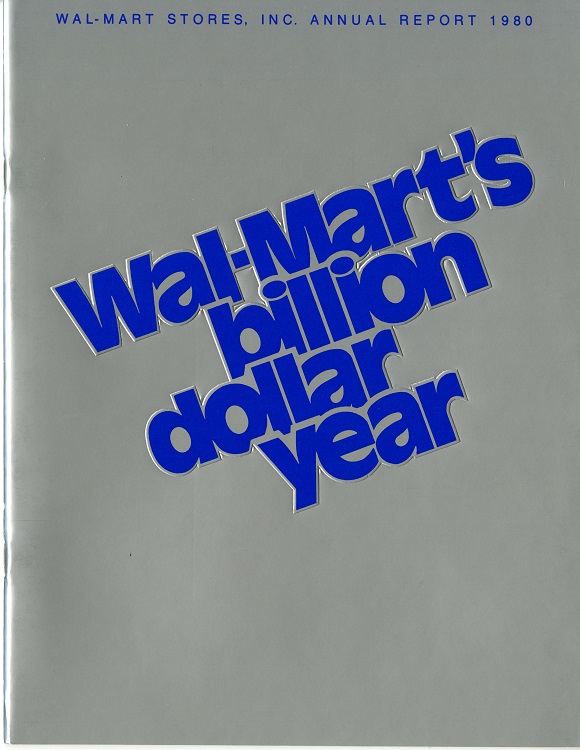 1979
The Walmart Foundation is established; its first trustees are Sam Walton, David Glass, and Jack Shewmaker.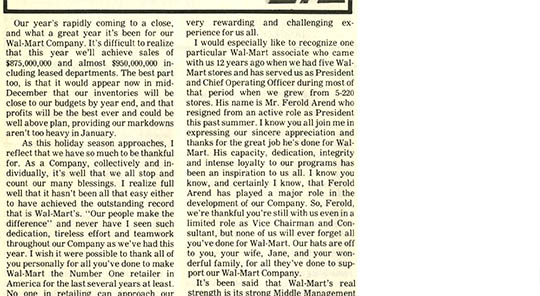 "Everything that is above average indicates quality thinking and the 'Pride of Performance.' It should be the rule rather than the exception. Constructive planning, good training, and careful supervision unite in beating competition and yesterday's methods."
Ferold Arend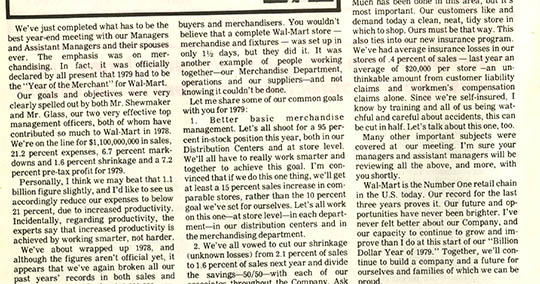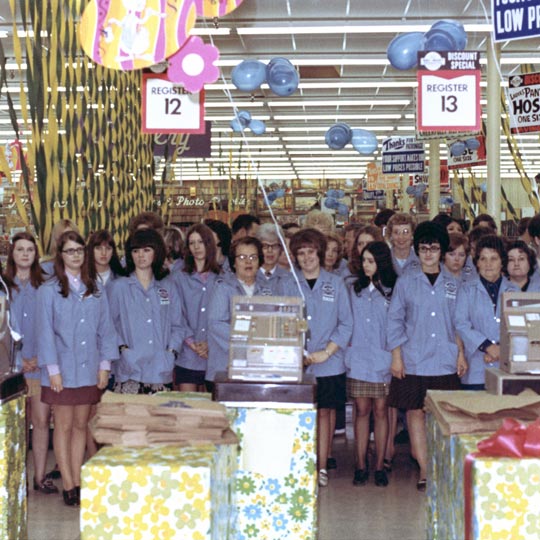 Little Known Sparks
In which Oklahoma town was the first Sam's Club opened?
The first Sam's Club opened in Midwest City, Oklahoma, in 1983.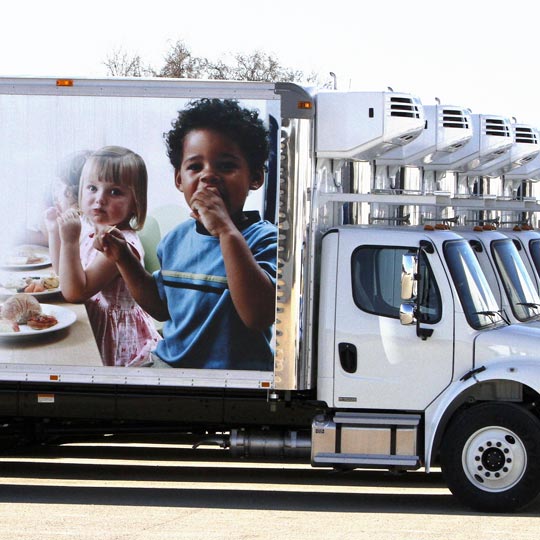 "In 1979 ... We hit a billion dollars in sales ... I was amazed that Wal-Mart had turned into a billion-dollar company. But I couldn't see any logic to stopping there."
Sam Walton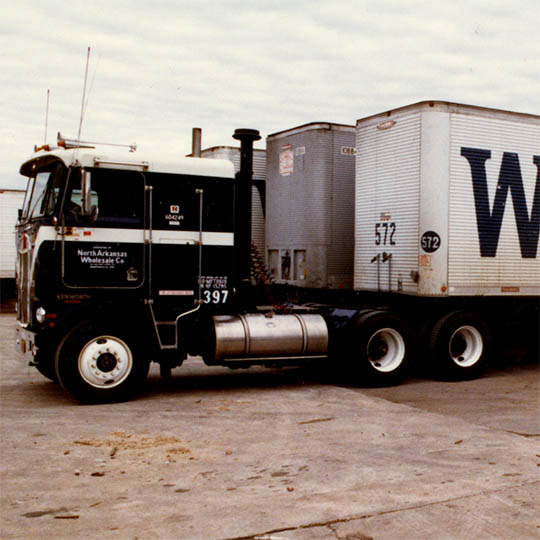 1979
Because of rapid growth in its computing power, the company builds a 16,000-square-foot data-processing facility to house the latest technology, and it installs the first terminal in a store: an IBM 3774.
1979
Walmart expands into Alabama.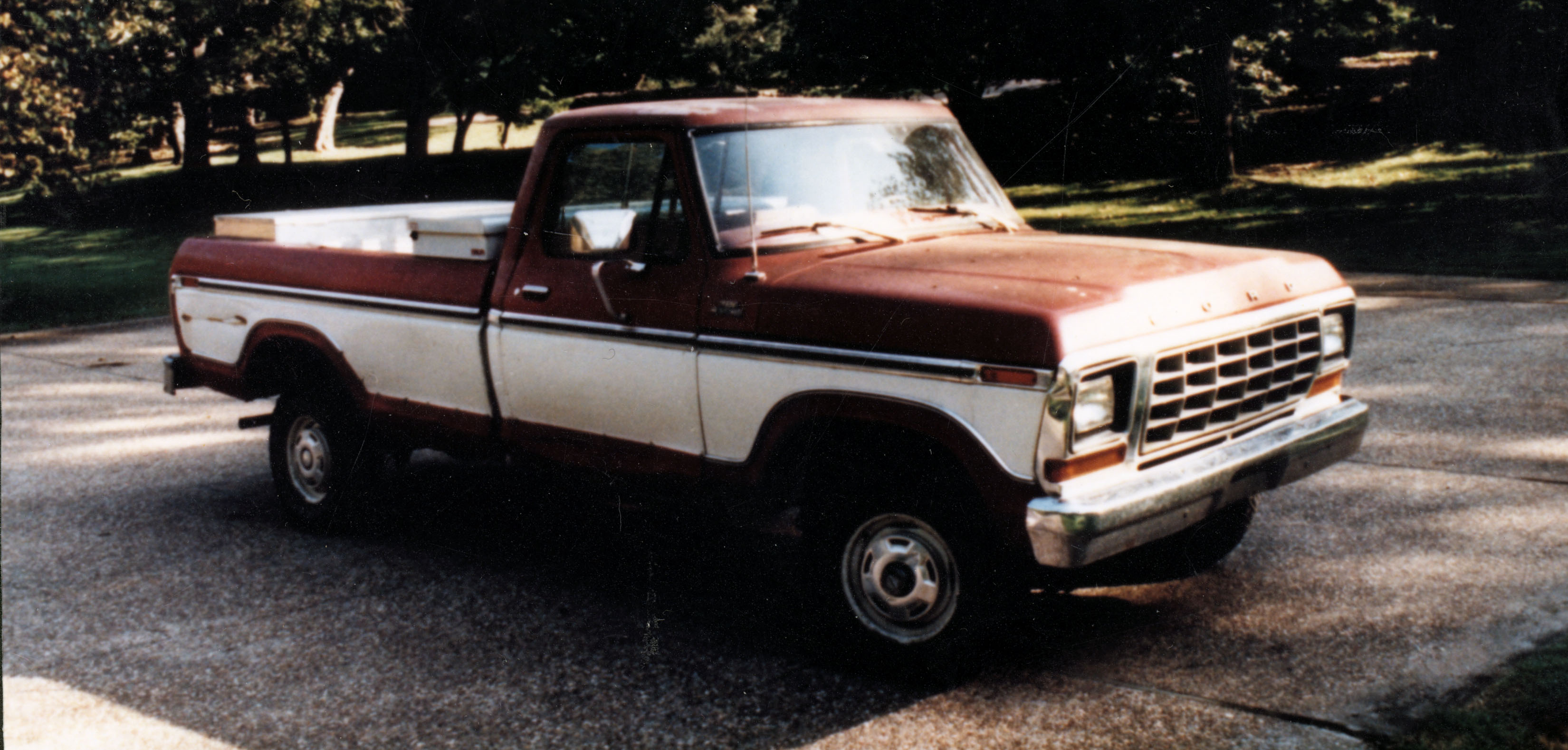 1979
Walmart is the first company to reach $1 billion in annual sales in such a short period.
Little Known Sparks
In what year did Walmart open its first store in China: '92, '94, or '96?
In 1996, Walmart expanded into China.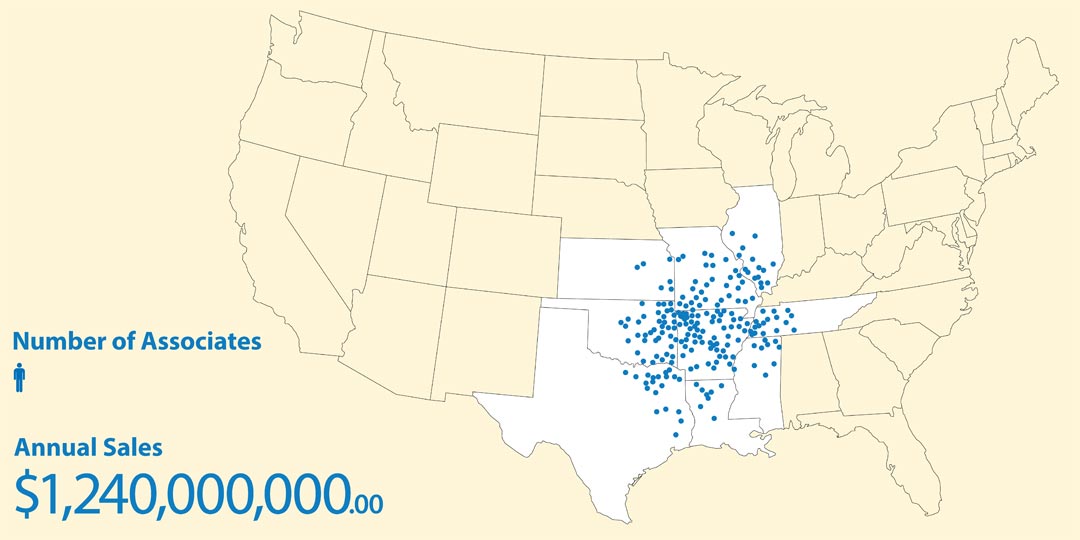 By the Numbers
By the end of the 1970s, annual sales reach $1.24 billion. Walmart has more than 21,000 associates and 276 stores.
1979
The Walmart Aviation Maintenance Department is established to work on the Walmart fleet.
1979
Walmart's 21,000 associates are working at 276 stores with $1.2 billion in annual sales.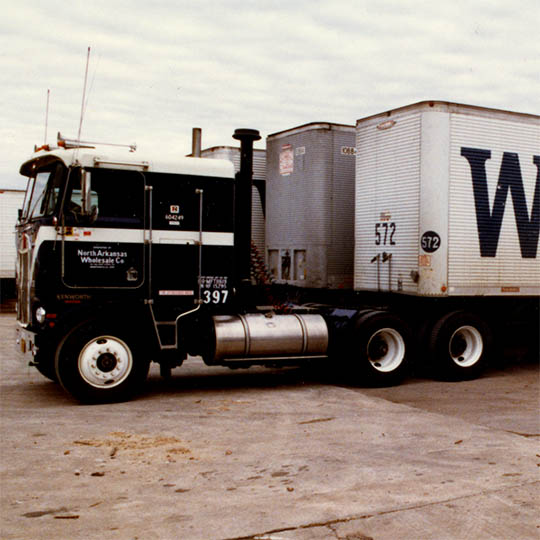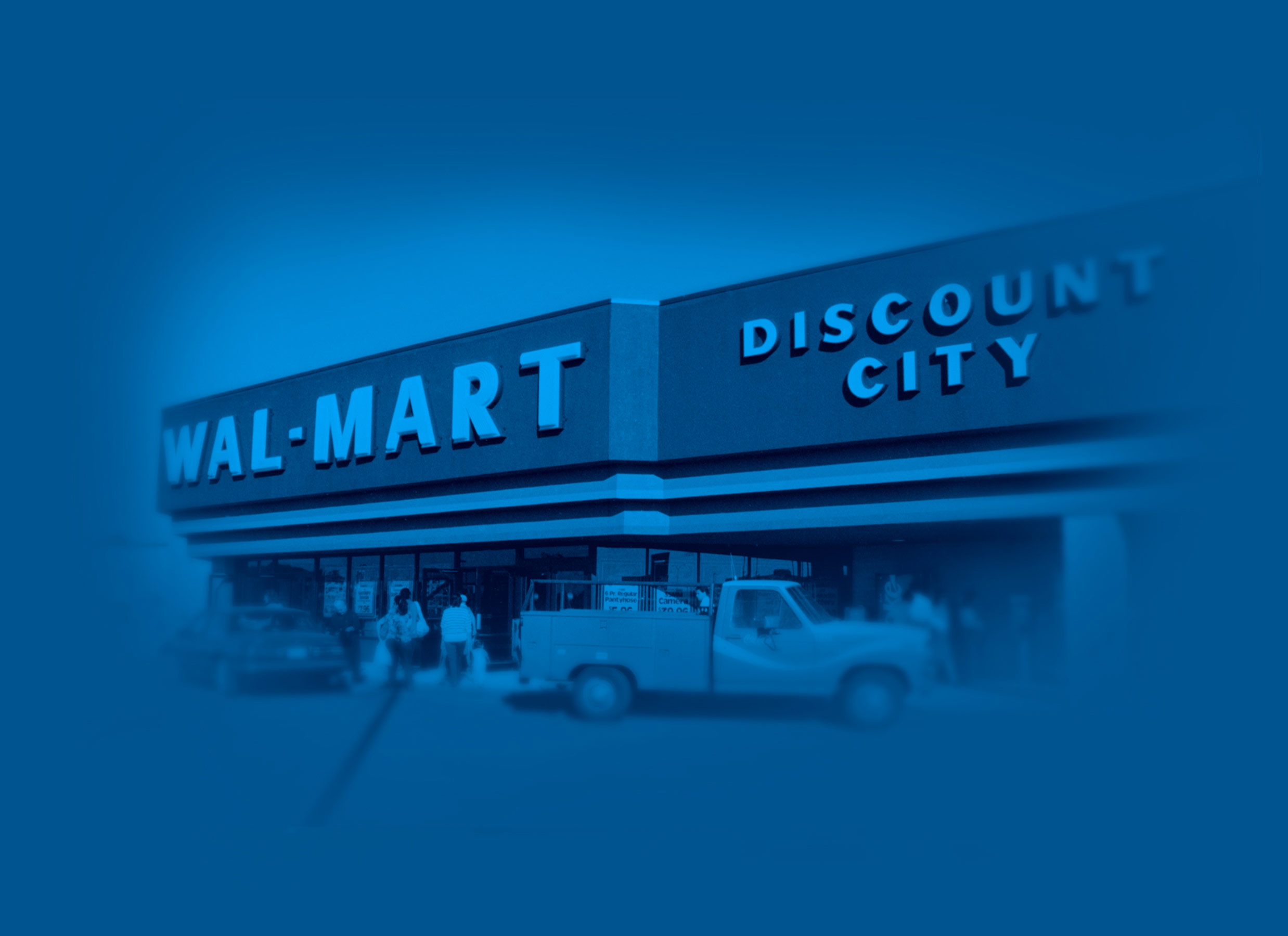 Explore the 1980s